Välkomna till Snowstorms officiella hemsida
Kontakt +46 70-6906381, +46 70-8363232, snowstorm@snowstorm.se
I höst reser Snowstorm med på den största svenska 80-talsturnén någonsin, Greatest 80's. Det blir 20 konserter över hela Sverige under en månad och biljetterna är släppta nu. Andra gamla vänner som är med på turnén är Dan Hylander, Mikael Rickfors, Lasse Lindbom Band, Katrina (formerly of Katrina & The Waves), Magnum Bonum, Ankie Bagger och Sha-Boom. Det blir bara hits!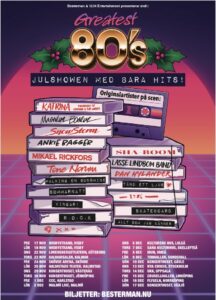 Alla gruppens utgivna låtar finns på Spotify. På vår Youtubekanal och facebooksida finner ni en timmes videokonsert från 1 maj 2020.
Snowstorm – rockgruppen från Göteborg, får förmodligen de flesta att tänka på sommar, fest och rosa Cadillacs. Genombrottet kom med Sommarnatt som toppade försäljningslistan och svensktoppen hösten 1980 och gav gruppen guldskiva. Idag, nio album och ett tjugotal singlar senare har dom sålt flera 100.000 plattor. 45 års turnerande i de nordiska länderna har givit gruppen en stor publik som vet att en show med Snowstorm står för högt tempo och originalmusik från 5 decennium.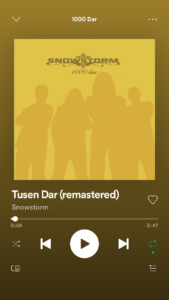 <!– .entry-meta –>
<!– .entry-content –> <!– #entry-utility –>
<!- postwrapper ->
<!– .entry-meta –>
<!– .entry-content –> <!– #entry-utility –>
<!- postwrapper ->
<!– .entry-meta –>
<!– .entry-content –> <!– #entry-utility –>
<!- postwrapper ->
<!– .entry-meta –>
<!– .entry-content –> <!– #entry-utility –>
<!- postwrapper ->
<!– .entry-meta –>
<!– .entry-content –> <!– #entry-utility –>
<!- postwrapper ->
<!– .entry-meta –>
<!– .entry-content –> <!– #entry-utility –>
<!- postwrapper ->
<!– .entry-meta –>
<!– .entry-content –> <!– #entry-utility –>
<!- postwrapper ->
<!– .entry-meta –>
<!– .entry-content –> <!– #entry-utility –>
<!- postwrapper ->
<!– .entry-meta –>
<!– .entry-content –> <!– #entry-utility –>
<!- postwrapper ->
<!– .entry-meta –>
<!– .entry-content –> <!– #entry-utility –>
<!- postwrapper ->


<!– #content –> <!– #nav-above –> <!– #nav-below –>

<!– #container –>

<!– #main –>